Description
Purchase Brand New Nighthawk LTE Mobile Hotspot Router  Click Here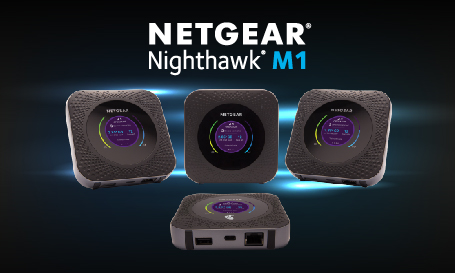 The Nighthawk M1 mobile router is the ultimate travel companion providing the convenience of a mobile hotspot with the full functionality of a travel router, supporting up to 20 Wi-Fi devices on a single connection so you can securely share your mobile internet with family or co-workers while on the go, at home, when travelling for work or pleasure.
Combining ultrafast download speeds up to 1Gbps, support for Category 16 LTE Advanced, 4X4 MIMO and 4-band Carrier Aggregation, Nighthawk M1 can serve as a media hub for streaming and playing multimedia entertainment. With a simple and intuitive app-driven user experience, parental control options, an improved JumpBoost feature, and a long-lasting battery for continuous use all day, Nighthawk M1 delivers mobile broadband like you've never experienced before.
"We're innovating at the cutting edge of mobile broadband technology so our customers can work with greater ease on the go and access the content, services and applications they love when they're outside the home," said Andrew Volard, Director of Device Management for Telstra. "The Nighthawk M1 mobile router powered by Telstra offers incredibly fast data transfer speeds, a long-lasting battery, and other great features for a world class mobile experience."
"For the past 15 years, Telstra and NETGEAR have worked together to deliver the most innovative mobile broadband products for customers. With their focus on innovation and customer experience, we're delighted that Telstra has again chosen to team with us for the initial launch of our Nighthawk M1 mobile router," said Andrew Green, vice president of mobile network products at NETGEAR. "It offers the latest LTE and Wi-Fi technologies so you can take full advantage of ultrafast download speeds on the Telstra Mobile Network and securely share your internet connection to support media streaming, storage and so much more."
The easiest and most convenient way to interact with the Nighthawk M1 is via the new NETGEAR Mobile app. Control the key functions of the Nighthawk M1 via the app, along with Wi-Fi management of the connected devices, storage, security and even parental controls. The app will allow quick and easy configuration of the M1 device and provides the ability to check data usage directly from the app.  The Mobile app also allows viewing of media files from the M1 and play-back on the mobile device.  All the control is in the palm of your hand via the Mobile app without the need of ever taking the M1 out of a backpack or briefcase.
Nighthawk M1 has no software to install so it's easy to set up in a matter of minutes — just power on and connect. It provides a portable, instant internet connection in a wide range of environments, and is perfect for areas that lack physical wiring such as camp sites or regional areas, or for renters on holiday or in short-term living arrangements. If you're a road warrior on a business trip, in a field office or a construction site, Nighthawk M1 keeps you and your work mates or colleagues securely connected and productive.